Love You & Thank You!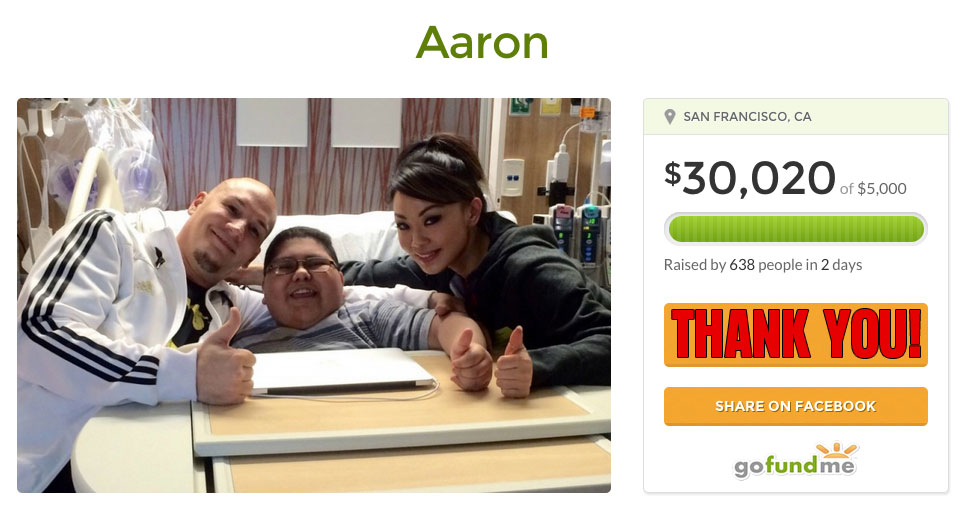 It's really hard to put into words the feeling we have this morning. It's only been 2 days since we asked you to open up your hearts to the Manriquez family. As you know, we hoped to raise $5,000 in order to cover their rent and allow Aaron's mother and father to spend every moment possible with their son. We're about to go the hospital to say hi to Aaron and tell Mom & Dad that gift of LOVE you gave is $30,000. JV & I honestly just didn't expect this.
This week has been a whirlwind of emotions. It was devastating to get Aaron's updated prognosis. What JV & I felt will never compare to what his Mom & Dad felt and are feeling.  And we could never imagine the pain Aaron is currently in. He's taking 2,000 mg of the strongest pain medicine there is, every other hour, just to cope.  But in the middle of all the pain and heartache, you have given this tremendous amount of compassion and love. The combination of your words on Facebook and other places online, your prayers, your thoughts & emotions, the letters you wrote and this huge donation demonstrated the amazing power that love can carry.
When Aaron's story and your response to Aaron & his family are talked about on the air, or online or person-to-person, the receivers of the story also feel something very strong.
You have touched a lot of people. When your letters start rolling into UCSF it will lift Aaron's spirit.  You have made such an impact on Juana & Sergio in a way that they can't really express.  When we go over there right now, we are going to see if Aaron is strong enough to hangout, but then Sergio & Juana wanted us to help them say thank you.  Later today you should see something on the GoFundMe page.  If you don't see it, I can tell you the first day we went to the hospital and told her what you had already done, it had her in tears.  A journey like this brings on so many hard things, so it's good to know that people care like this.
JV & I will be writing each person that donated on GoFundMe personally. For now, we'll leave you with; we love you and thank you again for using your heart to radiate an incredible light into Aaron's room, his parent's hearts, our lives and the lives of others.
Natasha & JV